Our Defibrillator is Here
---
---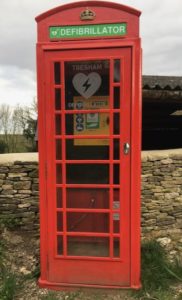 Tresham's own defibrillator is now installed in the phonebox.  A big thanks to Brad Marwick for completing the electrical installation.  Also to Dan Seward for making the door, Henry Murdoch and Richard O'Dwyer-Graham for doing the glazing, Bob Rowley for sanding and painting, Julie Rowley for planting the flowers and Matt Kingston and Liam Bale for re-building the wall.
The defibrillator is inside the cabinet, which is unsecured for quick and easy access.  In normal times we would now be organising some village social events incorporating training for everyone.  However, that will have to wait and in the meantime here is a YouTube video that should familiarise you with the unit's operation.  It's all very clever and as soon as you open it, the unit itself will instruct you through the process via an audio commentary.  There is also a Quick Reference Guide.
Let's hope we don't need it, but it's there if we do!
Simon Lee
[Ed: a big thank you also to Simon for pushing the project forward and before him Richard O-G.]
---