About Tresham
Tresham is a village in Gloucestershire, England.  It was transferred back from the county of Avon in 1991, having been in Gloucestershire before 1972.  Now in Stroud District, it forms part of the civil parish of Hillesley and Tresham.  It is in the Cotswold A.O.N.B., on the Monarch's Way and near the Cotswold Way.
Our Community Buildings
In common with many small villages in the UK, Tresham has lost most of its community buildings.  The Plough Inn was closed in April 1967.  And the shop/post office closed around 1980.
There is still a Chapel in the garden of Rose Cottage, opposite Whitestones, but now unconsecrated and no longer in use.  However, the same fate has not befallen Tresham Church which has a small but thriving congregation.
More recently, the Millenium Garden with toposcope and bench was created in 2000 by villagers.
There used to be a Village Hall but this fell into disuse and was eventually sold in 1979 to the owner of Old School House.  The proceeds were used to set up Tresham Village Hall fund, a charity.
If you would like to contribute any item of historical interest please write to Please switch on JavaScript to see our email address.
Bits and Bobs
Utilities
You may be interested to know that our water comes from a 300m borehole down at Alderley lakes.  From there it is pumped to Kilcott where the supply divides: one leg goes up to Hawkesbury Upton and on to Little Badminton, the other leg comes up to Tresham.  The Hawkesbury reservoir tops up Tresham before the system "calls" for more supply.
Mains water came to Tresham in the early 1950's.  Prior to that villagers would draw water from the well at the foot of Well Hill next to the bench and topograph.  But in the fifties the row of council houses was built and this brought electricity and mains water to the village.
Three-phase electricity was brought into the village on 25 Aug 2017.
Photographs from a Bygone Age
We would very much like to borrow old photographs of Tresham and scan them for this section.  Perhaps these will whet your appetite:
from the Alderley Estate sale particulars in 1923 of Burden Court and Talbot Court Farm (from Richard Goodenough):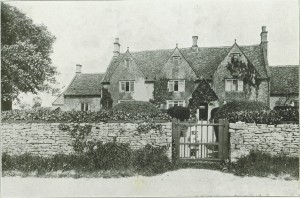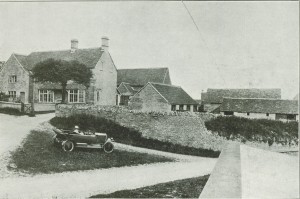 from Graham Watson :
---