Tresham Social
---
---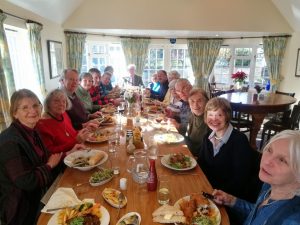 Let's get some more social activities on the calendar!
The photo above was taken at the recent lunch for 'Tresham seniors' held in February. It was by all accounts, a great success. After hearing about this from Alma Larrieu, I was motivated to gather a few neighbours together to talk about other potential social activities we could plan throughout the year.
The conclusion was that we should:
Form a social committee
Focus on a few activities and do them well. For example:

Summer fete/BBQ
Bonfire night
Skittles evening

Invite suggestions for other events
Seek volunteers to help with each event
In addition to the 'all village' events, hopefully there will be other opportunities to get together on smaller activities. For example, Richard and Francesca Goodenough are proposing a trip to Biddestone Manor Garden. For details of that, please see attached.
To get the ball rolling, the aim is to have an initial meeting of the Tresham Social Committee during May. Therefore, if you would like to join this committee or make yourself available as a general volunteer, please let me know by the 20th April.
Let's enjoy the unique Tresham community spirit together!
I look forward to hearing from you.
Simon Lee – Old Plough House – -01666 890230 – simonellislee@btinternet.com
---