Sir Thomas Tresham
---
---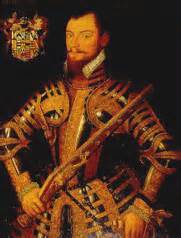 Last Sunday, 15 Nov, a programme was shown on the evolution of the British garden.  It starts with the garden created by Sir Thomas Tresham at Lyveden New Bield – you can watch it on iPlayer.
Sir Thomas Tresham was brought to my attention by a volunteer who works for the National Trust at Lyveden.  He had found our village website when researching Sir Thomas Tresham's ancestors.  It is documented that they moved from Gloucestershire to Northamptonshire at the end of the 14th century.  Does our village take its name from that family, he wondered, or did I know of an alternative explanation?
I did not, but I said I would visit Lyveden and the three other buildings Sir Thomas Tresham built in the area near Kettering.  Robert Wootton, the volunteer, showed us round Lyveden New Bield and, indeed, offered to come to Tresham and tell the story of Sir Thomas Tresham if there is any interest.
If you would like to attend an informal talk along these lines, please leave a comment on this post.
---