Future of Tresham Church Building
---
---
Responses to Survey
The survey closed yesterday, 18 March.
There are 47 households in Tresham.  From some 34 households there were 43 responses.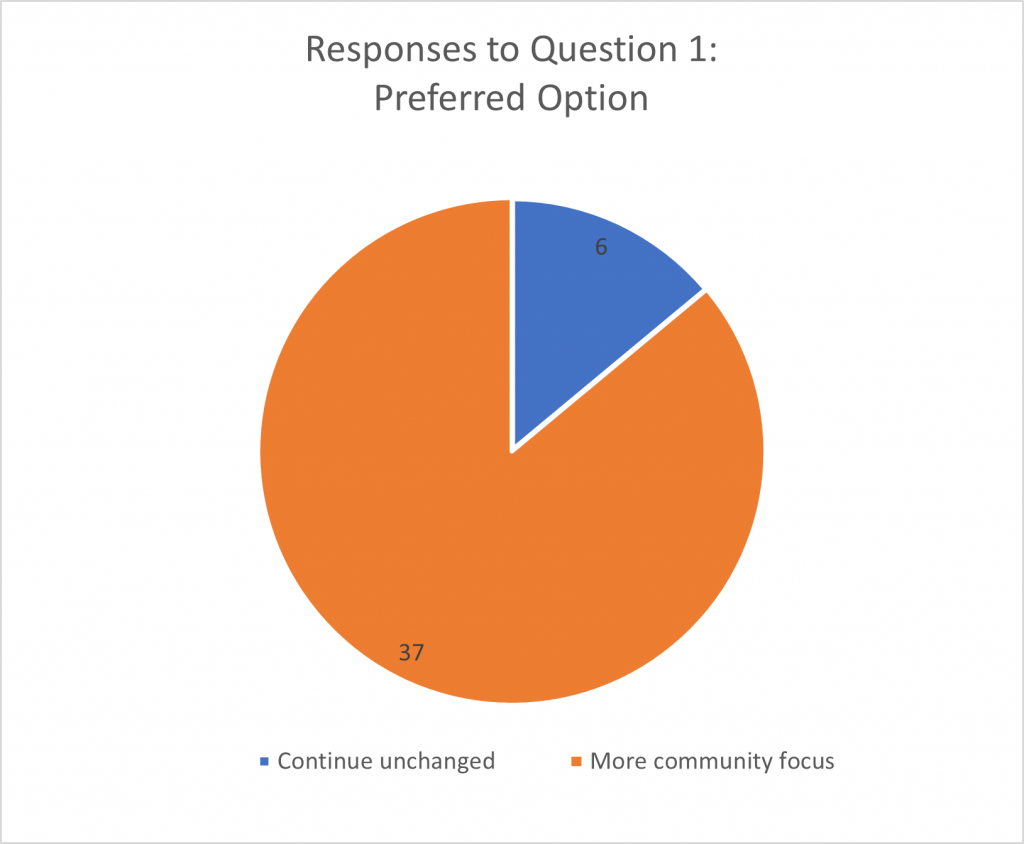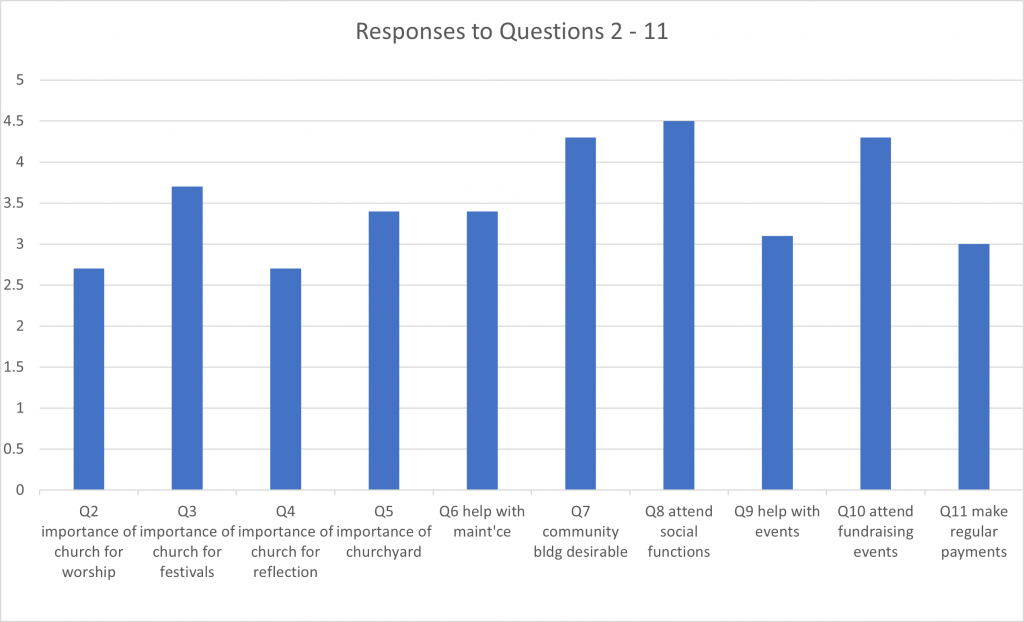 There is a more detailed analysis showing the answers across the range of 1 -5 for each question – it enables you to judge the spread of opinion.
There were 13 responses to Question 12: 'Do you have any other comments, ideas, opinions etc':
I believe it would be beneficial to remove the amount of pews (if not all), create a small kitchen area and toilet area and allow the hire of the church for functions such as acoustic musical performances, birthday parties, yoga classes and group gatherings. This will produce the required income to maintain the church's upkeep and status as a place of communal gathering. I would not want to see the church sold to a developer and believe the village should do whatever possible to avoid this.
There are more and more children joining the village and there could be an opportunity to provide some sessions for this age group in the form of evening story time with coco/milk, play sessions or even child care services.
---
More interested in helping in kind rather than financial support.
---
Personally we are struggling as a family with young children financially, so although we would love to make regular payments to support the church, with the increase in the cost of living I see this as impossible.
As stated as a family with young children, there needs to be some thought regarding the outside space at the church. The celebrations we have attended at the church are somewhat dampened by having to restrict & monitor where the children play/wonder making it rather stressful.
Finally, thank you to the committee for thinking 'outside' the box, enabling the village to retain the only community building.
---
Ideally I would prefer to keep the church separate for religious activities and have social activities elsewhere, but I appreciate the problem. It would be good to have more social activities in the village.
I wonder what sort of regular payments will be needed to support the church as a community building and social hub, and how affordable they will be to all.
---
I don't sense a strong need for a social hub and I feel the practicalities regarding the church building make it unfeasible.  I'd like to see more people involved as it currently is and the need may develop from there.
---
If it is supported by the village, I think it would be of great use as a social and activity hub for all ages and stages, to increase the well-being and resilience of the community. It would allow the church to be maintained here if desired, well into the future. It would also provide a social centre to be here, within walking distance, if the church ceased as its other function would already exist.
---
Would be interested to hear talks.
---
I am a rather unsociable person hence my response.
---
As the churchwarden of St Kenelm's I am happy to help when I can but cannot commit to helping with maintenance etc due to the commitment I already have.
---
As lovely as it would be for the church to have more use and raise more money, I can't see this happening.
I feel that you will take all the pews out and spend money on changing it into a social hub for it still not to be used for financial gain. The village aren't going to pay to go to a village meeting in the church which I think is all it will be used for. As a result, you will just take away what makes it a gorgeous church.
I would be happy to donate money each month to keep it running if that's what it takes but I don't think changing it will make any benefits to the church and quite frankly would be a waste of money.
---
An important part of Tresham History.
---
We spend a lot of time travelling so are not always available to help out but we would when we are home
---
I think it important that the Church continues to feel like a church and I am not at all happy with the idea of removing the pews and replacing them with easily storable chairs.
---
Next Steps
These results make it clear that a good proportion of the village feel that the church building is important, that there is a need for a community facility and that people want to get involved.
A village meeting is planned to discuss this further.
---