Margaret Gardner, 1931 – 2021
---
Posted on February 19th, by Editor in
Have You Heard?
.
Comments Off

on Margaret Gardner, 1931 – 2021
---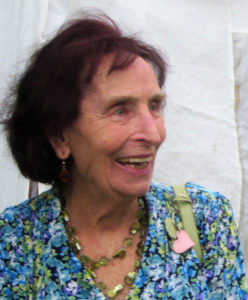 These memories of Margaret are based on the words of Kay and Michael.
---
Margaret was born at Holwell Farm, Ozleworth on 16 January 1931, brought up in Northern Ireland and eventually evacuated to County Durham.  She married David Gardner on Christmas Day 1948 and moved to Tresham first in their parent's home Pencot, then Cotswold View.  Margaret walked to Alderley to work for Squire Hale and Rosehill School.  David was born in 1953 followed by Michael, then, later, Kay.  Margaret wrote in Kay's autograph book: 'God's lovely creatures, birds and bees, winter sunsets, autumn leaves. This is Tresham…Mum'.  It was Margaret's habit to visit the churchyard to bring flowers for  birthdays; she would go outside armed with buckets and secateurs.  She spent many hours tending the graves and loved the tranquility.  There is something reassuring about a graveyard when the names are not of  strangers but of friends and family.  Hers was a deep faith, of the best kind, expressed in deeds, rather than words.
When the children were young Margaret decided she wanted to move house, probably because David was working at Newman Henders, travelling in all winds and weathers on his motorcycle; and Margaret getting a bit fed up with fetching water (by then from a stand pipe on the corner,) lack of shops, buses, etc. They found a lovely detached bungalow with a big garden in an elevated position in Kingscourt but the children did not want to leave Tresham. It was only when the seller of the bungalow burst into tears telling Margaret about how his wife had died in the bungalow and the memories he had of her there that Margaret decided not to move after all.
Her grandchildren christened Margaret after her dog – Nanna Freddie.  Margaret embraced different characters and ways of life; always open minded, and never judgmental.  Her philosophy was 'Everyone's got to live their own life'.  Whatever the family did, she shared and supported them.  Her love of Tresham, and the community here kept her going.  Cotswold View was her safe place – she once said if it fell down she would be happy to live in the shed rather than move.
Margaret died on 23 December 2021.
---
The family wishes to thank everyone in the village who contributed to making the day of the funeral very special.  It meant a lot, that they had known Margaret and the family so well and for so long.
You can also see photo montages of Margaret with her family taken from the front, inside front, inside back and back of the Funeral Service sheet.
---