A Passion for Moss
---
Posted on March 26th, by Nature Editor in
Nature
.
Comments Off

on A Passion for Moss
---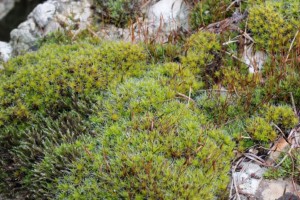 My friends all think I'm crazy, but I'm absolutely mad about moss. "What", I hear you say, "that pesky weed that makes my lawn look such a mess at this time of year?!" Well, yes actually.
I've always been fascinated by the beautiful patchworks of different mosses you get on some stone walls and rocks, so about 3 or 4 years ago I decided to find out a bit more about them. I soon became hooked. Look at moss plants and leaves under a hand lens – or better still, a microscope – and you will soon realise how diverse and truly beautiful they can be.
One of the other things that attracted me about studying moss is that you can do it indoors on dark winter days (or rainy summer ones)! If you collect specimens and keep them dry in paper packets, they will keep for years and years. Then if you want to have another look, just wet them and they will spring back into life.
There are over 700 species of moss in the UK. Some of them need a microscope to identify but a surprising number are possible to do with – or even without – a simple hand lens. They grow just about everywhere you can think of – lawns (oh yes!), woodland, in the middle of cities… and on wood, rock, Tarmac, concrete, soil, sand…
Now let me introduce you to one of the most noticeable species at this time of year. As you walk or drive around Tresham, you may have noticed something orangey-brown growing on the tops of stone walls. Look a little closer and you will find that it consists of lots of little hairy cushions of moss.
The 'hairs' are actually the fruiting bodies of the moss, consisting of a swollen capsule on a long stalk called a seta. Inside the capsule are the spores – like the seeds in flowering plants. This moss is called Tortula muralis, common name Wall Screw-moss, and it looks like this closer up:
Notice the hairy points of the leaves. This is quite common in a lot of mosses.
Here is another common moss to be found on the stone walls around here:
Note how the setae of this moss are looped back so that the capsules are almost buried in the leaves. Its common name is Grey-cushioned Grimmia, because the hairpoints on the leaves make the cushion look greyish from a distance.
If you'd like to know more about the various mosses to be found around Tresham, add a comment to this post.
---