Tresham Football Team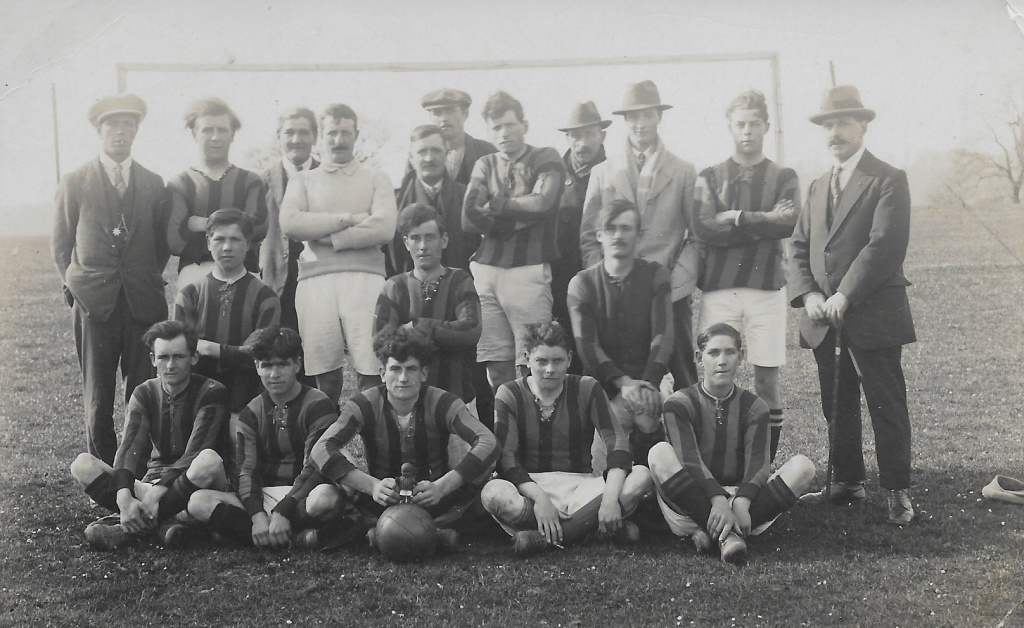 Michael Gardner writes (26 Apr 2020):
The Tresham Wasps were photographed c1922 in their ground which is the field opposite the "Council houses". Their colours were black and Amber, they played against Leighterton "Peacocks", Hillesley, Hawkesbury (a brutal side to be feared in those days – according to Jesse Sparrow) and Didmarton.
BACK ROW; L-R, Dick Sparrow ,Percy Watts, Graham Sparrow, Tom Daniels (kept Furlong Farm), Frank Bristow (kept the Plough), William Boulton, (Roadman cared for ditches etc from Alderley to the Pike), Charlie Daniels (Tom's Brother), Arthur Dickenson (Kinter), Jebbie Bristow, Bill Frankcom,(lived in Leighterton, married a Kerslake), William Gardner started the football team, (Headmaster Leighterton School, Michael's Grandfather).
KNEELING CENTRE; Jesse Sparrow (Grandson of the Jesse Sparrow who kept The Plough INN late 19th c.), Kruger Waite (from Hawkesbury), Bob Cox (lived at Saddlewood Farm).
FRONT ROW: Tom Cox, next one Not Known, also next one not known (holding mascot- which Phyllis Gardner youngest daughter of William, and School teacher at Leighterton School knitted the clothes for), Charles (Jube)Pontin – cousin to Tom and Charlie Daniels (June kept the Plough INN after Frank Bristow), Dudley Sparrow, (Brother to Dick, Jesse and Graham) -he lost an eye, fingers and thumb whilst playing with a detonator at the aerodrome at Leighterton.
I remember Tom Cox as an elderly man still cutting the Church yard with a scythe; apparently, as a young man he would do that early morning before a full days work on the farm — and cut it "like a cricket pitch".
Hope this makes sense, I added the notes made at the time my Uncle Norman who went through the names with me, it would be a shame to lose the bit of detail, some of the people are not team members but supporters who happened to be there at the time.
---